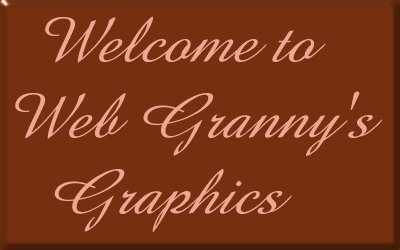 Hi, I hope you find something here that you will enjoy.
All my graphics will be in a zip format for you to download. There will be at least 6 buttons with names and one blank button in addition to the background and a welcome sign. I also include stationery for Outlook Express along with instructions on how to install it in the package.
If you don't want to make any additonal buttons you might need I will be happy to do so for you. There is no charge for the first 2 buttons.
On the page of each background set I will tell you the colors for the background and printing (font or text). I will also tell you the % if you use tables when you set up your page.
If you see something that you would like to have for your exclusive use please contact me.
There is no charge to use any background set that I make if they are being used for your personal use. I am asking that you please use the logo included in the background package and link it back to me at http://AWebGranny.tripod.com/bkgndx.html
If you find something that you like and use please

me so I can come and see how it looks and sign your guestbook. I will also be starting a page, hopefully, of people who are using my backgrounds.
Each catagory will open in a new window. When you want to return here just close the window you are using. This set will be included in the scenery when I have more done.

NEW!! 9/27/00 Five new sets have been added to the Native American backgrounds
Guestbook supplied by GuestWorld.
You are most welcome to visit the rest of my web pages.