Welcome to Granny's Index
May I bring you a cup of coffee or tea while you read?
I hope you enjoyed the welcome page. I plan on changing it on an irregular basis, so if you skip right to the index you may miss the new picture. If you are a Native American artist and would like to have your work featured on my welcome page please email me.


will mark the new pages. Nothing fancy, but I kinda like the way it looks. It will be placed by the title of the group that has the new page(s}
If you enjoy these pages, please sign my guestbook. It helps to know that your work is being seen and enjoyed.
When I was updating things, I checked out all the links. Big mistake, I ended up adopting Wolfie and a bunch of other pixies. In the not too far off, I hope to find time for another pixie page. Wolfie is very gentle, but....he IS a Wolf.
KIDS STUFF
Included here are cards you can cut out and color. Nothing serious, just fun stuff.
NATIVE AMERICAN
The First two are some reflections by me on what it was like to grow up American Indian in the Pacific Northwest. The rest? Check them out.

I Am A Proud Member Of:



Phenomenal Women Of The Web


These are pages that I didn't know where else to put or were one of a kind.

FUN PAGES
These are pages for your enjoyment.
You can send these pages to friends thru ICQ or email.


I've added a new fun page for you. It is a spoof on things we wish we had known sooner.

LINKS
I hope you find something in these pages that you enjoy.
Here is the Internet speed today:

This is on a scale of 0 to 100. For more information, click the logo.
THANKS MARSHA
A special thanks goes to Marsha who has been the greatest friend a gal could ask for. She has stayed up late with me a gazillion nights so I could bounce ideas off her via ICQ. Many, many thanks go your way! Without her support and assitance my own story and the caregiver page could never have been written. These were especially hard to do, and it is only thru her encouragement and support that they were finished.
Until next time, Have fun.
WebGranny


If you like this background and want to see others I have made please visit
I am adding a new guestbook as the old one was just about full.




To see the old book click here.

Guestbook supplied by Html Gear.



If you have a recipe or any ideas that you would like to see included in these pages please Email me and let me know.
The Guardian Wolf and Pixie came from: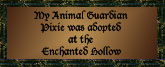 If you wish to give me the honor of linking to my site you may use:


linked to http://awebgranny.tripod.com/

This page has been visited by
people.
FastCounter by LinkExchange


This page was last updated on:
February 6, 2002.