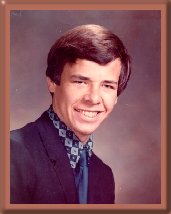 February 24, 1956 - July 12, 2000
Beloved son of Ed and Marsha Chowning
My Son
My son, I miss you more than I can tell,
my heart aches so, I fear it will never be well.
I know that some day I will laugh again,
but it will take a while to find a reason.

My son, I remember you growing up,
your happy face when you got the pup,
your laughter when santa came.
Now my life will never be the same.
Your time on earth was oh so short
especially when you compare it to
all the joy and love my life was given
thru your thoughtful love.
My son, I will remember you with love,
for love is what you were about.
I will remember you with laughter,
for you gave me so much in my life.
Good-bye My Son, I love you.





Arlene Weber &copy July, 2000
I wrote this poem in an attempt to help my friends heal. I hope I was successfull. I love you both. This is the Marsha that I write so much about throughout my site. Without her valuable help many of my pages would have never been, or if they did survive would not have been near as well done.
Marsha, God Bless and go in peace.
Granny
To return to Granny's Poetry Corner close this window.