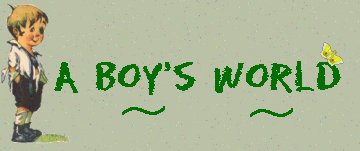 Baseball bats and Tonka toys,
getting muddy on a summer afternoon.,
Sunday school every week,
and then we get a feast.
A little boy's world is so much fun,
we laugh and play and jump and run.
Mommy bakes us cookies and pies
and my Daddy lifts me to the sky.
Grandma comes with lots of stuff,
and Grandpa teaches me to swim.
Cousins to fight with, Iama boy!
and a little sister to tease and protect.
But the best place of all is my backyard,
I climb the trees, crawl under the hedge
There are puddles to splash in
and shhhh, don't tell, but dragons are real.
Grandpa says to enjoy each day,
that things will have to change.
Grandma says, oh hush your noise
And let him be a boy.


© Arlene Weber
May 15, 1999



A special thanks to :





for making this special background.



Guestbook supplied by HTMLGear.



To return to Granny's Poetry Corner just close this window or visit: