Can't find a friend to chat with?
Don't feel like surfin' or readin' jokes,
Then this is what to do.

Turn off the 'puter and read a book.
Or take a nice long walk.
Fill the tub with lotsa bubbles,
And have a quiet soak.

Call up a friend you haven't seen,
Just to say "hi, how are you?".
Visit a neighbor and trade some gossip.
Over a cuppa tea.

Go to your garden and just enjoy,
Or pull a weed or two.
Bake some cookies just because.
And see what that will bring.

These are the things we usta do,
Before the 'puter came.
And wonder of wonders they still will work,
To chase away the blahs.

Ding, "you got mail", Gotta Go.


© AWeber aka Web Granny
March 31, 1999


This lovely fuschia came from:



Guestbook supplied by HTMLGear
To return to the poetry index just close this window.

Or visit: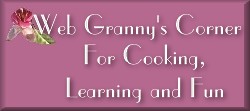 FastCounter by LinkExchange